About Us
A.V. Olsson Trading Co. is a family-owned business that was founded in the 1920s by Adolf Viktor Olsson, a Swedish immigrant. The company is presently owned by the family's third generation and is based outside New York City in Stamford, CT.
History
Adolf Olsson was born on the family's farm outside of Lysekil in Bohuslän, Sweden in October 1897. He was the youngest of 14 children, and the family was deeply involved with all aspects of the local food business including farming, fishing, packing, and so on.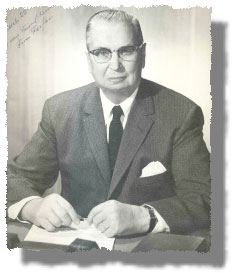 Adolf Olsson immigrated to the United States in 1926 and settled in Brooklyn, New York with his wife, Ragnhild. He soon began importing Swedish Foodstuffs from his brothers, and sold them door-to-door. The many native-born Scandinavian immigrants who were living in New York City were a ready market for the food they remembered from home.
Adolf Olsson worked hard during the depression years, and gradually the business grew. Stores began stocking the products he was importing; first in New York, then in other cities where Scandinavians settled including Chicago, Minneapolis, Seattle, Los Angeles, and Worcester. Wagon Jobbers, known today as specialty food distributors, began handling his products.
A.V. Olsson Trading Co. is a business owned and operated by the Olsson family. Adolf's son, Lennart, joined his father in the business in 1954, and then his son, Kenneth, joined his father and grandfather in 1979. Today, the company focuses on high volume imported dairy products from around the world. The company also offers advisory services to other dairy importers.